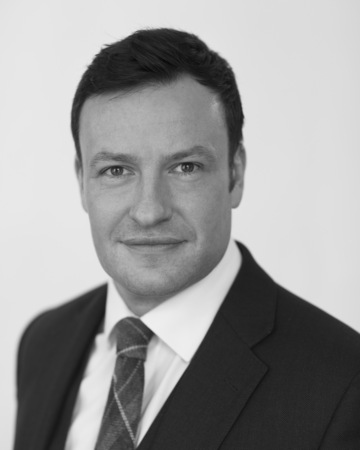 barrister
Call: 2008
(he/him/his)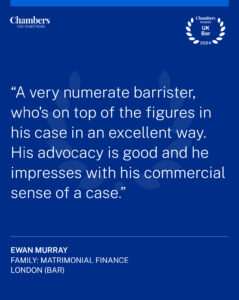 Called to the Bar in 2008, Ewan practices exclusively in the private client elements of family law.  He provides advice and acts for clients on the financial and children aspects of relationship breakdown under Matrimonial Causes Act 1973, Trusts of Land and Appointment of Trustees Act 1996, and Children Act 1989.  Ewan provides pragmatic and straightforward advice while maintaining an empathetic approach to his clients.  Ewan has represented clients in courts of all levels up to and including the Court of Appeal. As well as conventional Court proceedings, Ewan has represented clients in arbitration, private FDRs and round table meetings
Specialist in:
Ewan works in all aspects of private children disputes.  He has represented parents, relatives and children in complex cases.  He has been involved in many cases involving serious allegations of abuse, parental alienation and substance misuse.  One particular case involved a 14-day finding of fact hearing with extensive medical evidence.
Ewan is also regularly instructed in cases involving an international element in which parents either wish to move to a foreign country (temporarily or permanently) or where a child has been wrongfully retained.
Ewan's matrimonial finance practice increasingly involves high net worth individuals.  He has been involved in cases that have complicating factors such as jurisdictional issues, allegations of lack of disclosure, capacity, serious illness, trusts, complex business structures and other offshore assets.  He also has experience in more modest cases that regularly involve difficult or creative solutions.
Ewan represents clients in cases with a foreign dimension including financial relief after an overseas divorce and disputes as to the appropriate forum to litigate in.  Ewan has particular experience in cases involving disputes between Scotland and England.
Ewan has a wealth of experience in cases involving property disputes under Trusts of Land and Appointment of Trustees Act 1996.  He has represented clients through all stages of the process from pre-action advice to successfully defending the appeal of a final hearing decision.  The cases he has been involved in have included complex trust structures and international property.
What the directories say
"Clients feel very comfortable with his sound and structured approach to financial matters."
"He comes at cases with a realistic perspective which results in a better outcome for the client."
"A very numerate barrister, who's on top of the figures in his case in an excellent way. His advocacy is good and he impresses with his commercial sense of a case."
Chambers & Partners UK Bar 2024
"Ewan is a great communicator, approachable and extremely good with clients, putting them at ease from the outset, explaining everything and being empathetic at a difficult time. He is well-organised and very supportive, always responding promptly and efficiently to questions."
The Legal 500 2024
"Ewan Murray is very strong on the papers. He is meticulous in his preparation and very supportive to his instructing solicitor."
"Ewan's knowledge of the financial remedy procedure and his rapport with the clients is second to none."
Chambers & Partners 2023
"He will set [clients] at ease from the moment he first meets them. He is always extremely well-organised and is not afraid to take a robust stance inside and outside of court where needed, but equally, he will adopt a pragmatic approach where he can and engage in constructive discussions outside of court with his opponent. In court, he is composed and excels at cross-examination, in even the most difficult of cases."
The Legal 500 2023
"Clients adore him and he is practical and sensible in court. He will be robust with the other side where needed but equally cooperative where there is scope to work in a constructive manner."
"Ewan provides a safe pair of hands for even the most complex matters and is a reassuring presence in difficult situations."
Chambers & Partners 2022
"His calm, measured approach inspires confidence. He is always well-prepared and unfazed by complex cases. His relaxed, authoritative style enables him to easily win over the tribunal."
The Legal 500 2022
"Works tirelessly in the client's interest and produces excellent advocacy."
"He has a keen legal mind and is a reassuring presence in a case."
"A great team player who is pragmatic and gives considered advice."
Chambers & Partners 2021
"Is great to work with, is very numerate and works incredibly hard. A star in the making."
The Legal 500 2021
"Has a very good manner with clients in that he gives firm but empathetic advice, and is not afraid to manage expectations. His written papers are thorough, detailed and set out very accessibly. In court, he is a very experienced and persuasive advocate who is able to support the client, cross-examine effectively and respond adeptly to the judge's requirements and indications."
Chambers & Partners 2020
"Fights his client's corner well but he does it with grace and hood humour"
Legal 500 2020
Professional Memberships
Family Law Bar Association
Lincoln's Inn
Data Protection
Ewan Murray's Information Commissioner's Office (ICO) registration number is Z2876400.
Please see here for his Data Privacy Notice.